KIDS UNITE TO FIGHT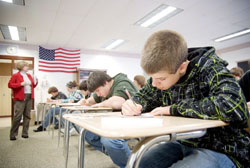 This unique program, helps to gain access into your local schools. From the school environment, Kids Unite To Fight mobilizes home town students and faculty by enlisting their support. The goal is two-fold: to support families registered with Cole's Pages and also to educate young people regarding real life medical issues.
The Cole's Pages staff manages all aspects of the program allowing a family to spend necessary time with a loved one. The Kids Unite To Fight program not only benefits the families in need but it expands the beneficial core asset of empathy.
I would like to thank you all for having such a program available. My daughter recieved a card from a child in Michigan and it was wonderful to recieve an unexpected card from someone we don't know. Thank you and keep up the great work you do!

~ Erin from Missouri
Learn even more about Kids Unite to Fight at www.kidsunitetofight.com

"Positive Change" School Assemblies
Through Kids Unite To Fight Aaron has been doing school assemblies to help motivate, encourage, and challenge every student, not only to get involved but search themselves and this journey we are all on. With 1 in every 4 schools having a child with cancer "Positive Change" student assemblies are a guaranteed must for your community.
Every School not only gets an assembly but they get a customized program to harness the energy of youth to bring about change in a mighty way. The Kids Unite to Fight program will give every child an opportunity to do something that will make a huge difference for another student dealing with cancer!
I can't explain how perfect this message was for the times that we live in. Never have I seen our student body sit and respect one speaker as they did Aaron. He truly had a way of captivating everyone listening. Without question, I would recommend any school to host this assembly!"

"Positive Change truly is the message that gets left! I don't believe anyone will ever forget what they heard today!"
"Newly Diagnosed"
With 46 kids diagnosed every single school day this assembly is quickly becoming very popular! Aaron uses his experience to help students understand and mobilize their energy in supporting those newly diagnosed. One of the biggest motivators for any game, or sporting activity is the crowds involvement. The very same strategy holds true for those who are about to face the biggest challenge of their life, cancer! It may be hard to understand but this assembly will quickly make that a reality. Allow your students to be that support to the very special someone in your school!
"Re-Entry Assembly"
Could you imagine being in High School just returning back to school from months of radiation, chemo, and an experience that no-one should face, not to mention kids. Aaron takes this opportunity to prepare and encourage classmates and piers to make the re-entry as welcomed as possibly.
Many students experience, weird looks, avoidance, and possibly the unimaginable teasing that often occurs. Nine out ten times it's only because students have questions, and are uninformed. They don't realize what that particular student had to go through to have no hair! Aaron not only enlightens students but challenges them to rise above the norm and go beyond to make that hero in their school feel welcomed.
This assembly is an absolute must for any school that has a child dealing with cancer!
"The Unimaginable"
Today there are 7 students facing cancer who unfortunately will not make it through the day.
"I will never forget that call that I received from a school administrator in South Carolina. She quickly explained how their entire school was affected when one child that everyone was rallying behind suddenly passed. She wanted to know if there was anything we had that will help their students overcome this grief." Aaron Ruotsala
With that call in mind, Aaron is able to help any school overcome the circumstance that they find themselves in. His personal testimony certainly gains a unique similarity that most others would not be able to connect. From helping students overcome grief to fighting back, this assembly will leave your students encouraged, motivated, and begging to do more for others experiencing childhood cancer.
"Positive Change" Student assemblies
Contact Us about scheduling an assembly at your school

"Sometimes the greatest way to overcome grief.... is to help others with theirs!"
Map of Kids Unite Participants

View Kids Unite to Fight in a larger map