Send-a-Smile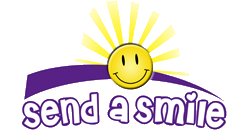 We have some wonderful and talented individuals who take the time to make cards, put together care packages and send balloons to children who are having a rough time. If you know of someone who would benefit from this outreach, please fill out the form.
We understand you may not have all of this information but please fill out the following form as completely as possible. This will help us in getting encouraging cards, balloons and packages sent out as quickly as possible.
Search
If the child you are wishing to send a smile to is registered with Cole's Foundation, please search for their name or pagename below:
I don't believe this family has a page on Coles Pages.
Skip this Step
Testimonies Read Below

"Thank you to everyone for the prayers and good thoughts! A special thank you to the Cole's Foundation Prayer Team for the balloon and card it put a huge smile on his face! "

Testimonies Read Below

"To The COLE'S Foundation: Thank you so much for the balloons at the hospital. Each time you've sent them, they have arrived at just the right time. Always during a rough patch, when he needs a pick me up. They arrive and he gets a big smile on his face. "

Testimonies Read Below

"He had a package waiting for him from the COLE prayer team. Thank you guys! You are pretty special in the lives of these kids. "

Testimonies Read Below

"We had a wonderful surprise tonight when the balloon delivery ladies delivered a wonderful Mickey Mouse balloon. Thank you Cole's Foundation! The balloon really made Joey's eyes shine and he is happily playing with it right now and talking to it. It has definitely been a bright spot for him, since his favorite thing in the world is balloons and mickey mouse. "

Testimonies Read Below

"Cole's Foundation (www.colesfoundation.com) sent a big sun balloon with a sucker! Very sweet! Thank you! "

Testimonies Read Below

"I want to thank the Cole's Foundation for the Thomas balloon that was delivered this morning for the little man. That really lifted his spirits! :-) "

Testimonies Read Below

"I wanted to thank the Cole's Foundation for sending the wonderful package!! What a BEAUTIFUL quilt!!! Haley has added it to her nightly prayer blankets. She will sleep with it every night knowing she is snuggled up in love and prayers!! Thank you! Thank you! Thank you! "

Testimonies Read Below

"Thank you for brightening Alena's hospital stay with a lovely sunshine balloon. We love Coles Foundation! "

Testimonies Read Below

"Thank you to C.O.L.E.'s Foundation for your support. Thank you for the balloon you sent Cole while in the hospital. His face just lit up as soon as he saw it! What a wonderful gift to really brighten his day!! Thank you also for the gift box he had received in the mail. That too brightened another day. "